What's On?
Art Exhibition
21st August – 1st October 2019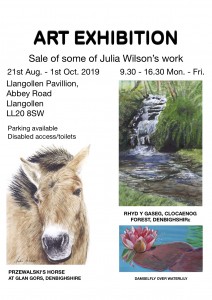 A collection of work by Julia Wilson.
Some works available for purchase.
Open from 9:30am to 16:30pm Monday to Friday.
Free onsite Parking Available.
Baby Bazaar
Saturday 28th September 2019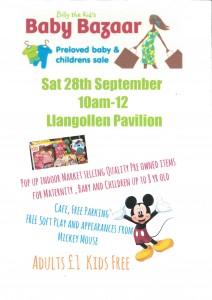 Preloved baby & children's sale
Open 10:00 am – 12:00pm
Onsite Café
Free onsite parking available
Adults: £1  Children: Free 
Britain's Strongest Masters 2019
British Strong man returns to Llangollen Pavilion
for an evening show.
Starts 6:00pm
Onsite Café available
Onsite Bar available
Free onsite parking available
Adults: £5   Children: £3

Welsh Blood Donation
Tuesday 22nd October 2019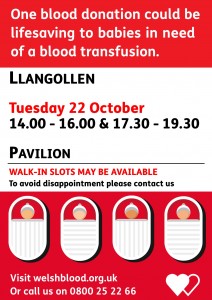 Session 1: 2pm to 4pm
Session 2: 5:30pm to 7pm
Visit: www.welshblood.org.uk
Onsite Parking Available
Llangollen Food Festival
Saturday 19th – Sunday 20th October 2019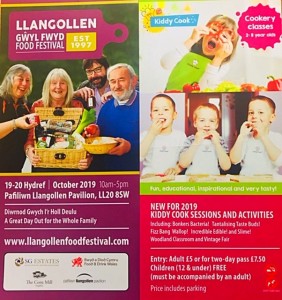 A great day out for the whole family.
NEW for this year Kiddy Cook & Activities.
Fun, Educational and very tasty!
Opening times – 10.00am – 5.00pm
Admission – Adult £5 or for two day pass £7.50
Children (12 & under) FREE
For more in formation visit:
www.llangollenfoodfestival.com
NEW Dance Adult Evening Classes
Mondays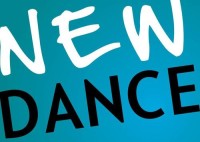 Please note this class has moved to Llangollen Town Hall
Dance your way to Fitness!
Mondays 7.00-8.00pm
Latin / Ballroom – learn a variety of steps from Cha Cha Cha to the Waltz.
Mondays 8.00-9.00pm
Salsa:  Learn salsa steps and sequences. No partner required
More information at www.newdance.org.uk or by calling 01978 869456
£4.50 per session